Josephine Louise Geis
From Genealogy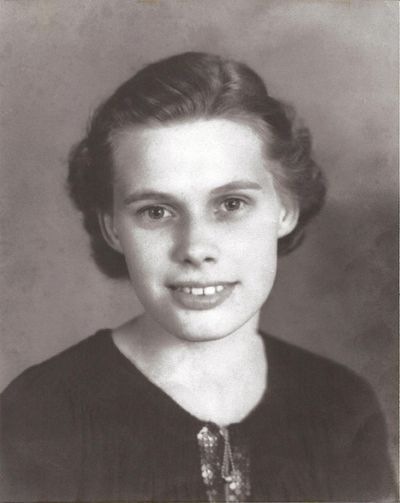 Josephine Louise Geis (married name Ladner) was born February 5, 1920 in New Orleans, Orleans Parish, Louisiana, to Alphonse Henry Frederick Geis and Josephine Florence Wardle. She was christened February 29, 1920 at the St. Francis Of Assisi Church in New Orleans.
She married Hester Ladner on January 24, 1942, in Bay St. Louis, Hancock County, Mississippi. They had eleven children: Hester Kenneth, Carol Diane, Gerald Henry, Karen Ann, Wayne Robert, JoEllen Dale, Roy Brent, Barbara Sue, Barry Louis, Bryan Keith, and Terrell Edward.
Josie was baptized into the Church of Jesus Christ of Latter-day Saints on August 2, 1952 in Bayou LaCroix, Mississippi. She received her endowment in the Washington D.C. temple on November 1st, 1979.
Josie died on May 21st 1995 in Bay St. Louis. She was buried in the Bayou LaCroix Cemetery.
Personal Writings
(date unknown)
There is a saying, "Today is the first day of the rest or your life." So I will begin my life now by writing an account of my comings and goings as I can best remember.
As I have procrastinated doing this after the Prophets have admonished us so very often, I will have to pay the penalty for it by not being able to give a more accurate account of my life.
I will begin by thanking my Heavenly Father for all of my blessings. It seems I have always received more blessings than I deserved.
My greatest blessing is the wonderful children I have been blessed with. Six sons, Kenneth, Gerald, Wayne, Roy, Bryan and Terrell and three beautiful daughters, Diane, Joellen, Barbara and the two—one son, Barry and daughter, Karen who died a short time after birth. Each one is like a precious jewel in their own right. My greatest regret is that I was never out going enough to let them know how much I loved them and just how much they meant to me. I could never thank them enough for all they did for me—I was always so dependent on them.
I am also blessed to have many wonderful grandchildren, Melissa, Jordy, Melanie, Jimmy, Carol, Roy, Kelli, Denay, Lodge, David and Joey who lived to age 5 years, and the other three grandsons who had the privilege to come to earth to take a body for a short while.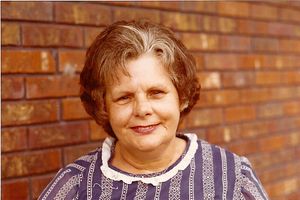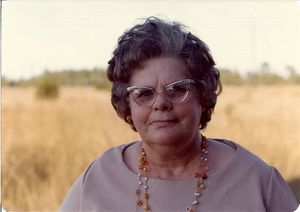 I have been blessed for having wonderful parents, one sister, and three brothers. Growing up we were so very close and had a very special relationship. I don't remember ever having a serious argument with any of them—neither as children or grown-ups.
Even though I had never been told that I was loved, I knew it just the same. I knew it because of all they did for us. When I would be sick my Dad would come from work and sit up all night by my bed. My Mom's whole life was centered around doing for us kids. She never did, and very seldom bought, anything for herself during our growing up years.
I was greatly fortunate with having known three of my grandparents, which was unusual during my lifetime. How privileged I was to have three wonderful aunts and many cousins and so many, many friends, too numerous to name.
I had the greatest example of Womanhood that one could possibly have and one that I would like to emulate—my Mother-in-law, Ellen Elizabeth Ladner Wainwright. Also so many wonderful aunts through marriage and the many other relatives including Uncle David on the Coast here in Bay St. Louis. I always consider all the people here in Waveland Branch as my relatives. Especially the young people as my nieces and nephews.
What would my life have been like had I never heard of The Church of Jesus Christ of Latter-Day Saints? I don't know and I could never imagine. Without the Gospel of Jesus Christ how meaningless life would be—and not knowing the answer to those three great questions- Where Did I Come From? Why Am I Here? And Where Am I Going?
But the most important thing to be thankful for—for without it life would be without purpose, is to be a Child of God. To know that Heavenly Father loves me, of all people, and that our elder brother, Jesus Christ, loved us so much that he was willing to come to earth to show us the way back to Heavenly Father. To think Jesus loved us so much that he was willing to take upon himself all the sins that we commit that we repent of—so much that blood came from every pore as he prayed in the Garden of Gethsemane.
As to that question "Where Am I Going", I can only hope and pray to the Celestial Kingdom—that is my goal, but whether or not I attain to the highest is all up to me and no one else. …

I came into this mortal life on February 5, 1920 in the great city of New Orleans, Louisiana. My family was living in the uptown area on 419 Octavia Street in the 12th Ward, which was known as the silk stocking ward. I was the 2nd child and daughter of Alphonse Henry Frederick Geis and Josephine Florence Wardle. My elder sister, Bernadette Caroline was born on August 19th, 1917.
She was the reason my Dad was not inducted at first in World War I. Later, when men with children were inducted, it must have been an act of fate which kept my Dad out. They used the lottery system in selecting men to go. As my Dad was standing in line, a man who was behind him was worried as he was late for work. Being the kind of man he was, my Dad offered to change places with him. As it happened the lower number was called saving my Dad from being inducted.
Later my parents had three sons born to them; Alphonse Henry Frederick Geis, Jr. born February 20, 1922; Charles Hiram Landry born September 27, 1926; and Henry Louis Columbus born October 12, 1928—all born while my parents resided on 419 Octavia. The Caroline in my sister's name is after my paternal grandmother. The Louise in my name is after my maternal grandmother's name. My eldest brother, Alphonse, is named after my Dad; Charles is named after my maternal Grandfather; and my brother, Henry, after my paternal Grandfather.
I was very fortunate in knowing three of my Grandparents; two paternal grandparents and one maternal grandparent. My Grandfather Geis died in September, 1926 when I was six and my Grandmother Wardle died in June, 1930. My Grandmother Geis died in November 27, 1948 and of course my Grandfather Wardle died before I was born. He died June, 1919.
I did not have a large number of aunts, uncles, and cousins but they were all very special to me. My Dad only had one sister, Beatrice Viola, who was two years younger than he and my mother only had two living sisters both of whom were older than her. They were Aunt Clara and Aunt Lovie whose real name was Anna Albertine. My Mother only had one brother who reached manhood, Charles Richard Wardle, but he died a couple of days short of being 26 years old. He had one child, a boy named Charles Gerald who I do not remember seeing until my brother, Henry, died in 1946.
My Dad's sister, Ant Bea, had three children, Charles Haase, Estelle Haase, and Charles Haase. My Mother's sister Clara had two daughters, Myrtle Van Horssen and Violet Van Horssen. My Aunt Lovie (her real name was Anna Albertine but everyone called her Lovie. I was told she was called Lovie because she was so very pretty as a child.) She had six children from three husbands. They were: Rosemary Bremer, Charles Bremer (who everyone called Brother); Joseph Bremer; William (who everyone called Billy) Wehner; Caroline Smith; and another girl baby who she named Mary Louise that was stillborn.
…
There are a few vivid instances which I can recall from my early childhood. One of these are going to the Audubon Park on Sundays with my sister, Bernie, and my Grandma and Grandpa Geis. I can remember very distinctly my Mother putting my sister's and my hair up twisted in silk stockings cut in strips, so it could curl when we went out on Sundays. I also remember going with them to City Park to ride on rides and ride in a small boat through a tunnel in a little man-made stream of water. Another recollection is being in kindergarten blowing soap bubbles, then discovering my ring was missing. We looked everywhere but couldn't find it. It was a ring my godmother, Aunt Clara had given me. Another recollection which is very vivid is the night my Grandfather died in September, 1926, when I was six years old. My Mother and Grandma Geis went to play Lotto for prizes in the Octavia's Hall across the street. My sister, brother and I were dancing around with Grandpa Geis and listening to the radio with the ear phones (which were the only way one could listen to it) and having a good time. My Grandfather had complained of having indigestion when my Grandma returned, and they went home which was the other half of a double house. A few minutes later my sister woke me and said that Grandpa Geis had died. I couldn't believe it and said, "You mean Grandpa Wardle. He died before I was born." It seems that the Doctor had told him never to eat crabs and that day someone had brought him some crabs at his barbershop. My Grandmother said that a few minutes after they went home he went to shave in the bathroom and called her to see how thick his tongue was. Just as she reached him he fell in her arms. She screamed and my Dad had to break the door down to get in. The Doctor said he had died from a hear attack. Thirty-four years later in that same bathroom, my Mother while taking a bath heard my Aunt Clara call out. Again my Dad had to break the door down to get in but she was already dead, in the bath tub. She, too, had died with a heart attack.
Another very vivid recollection is the day of my Grandfather's funeral. My aunt Bea's maid was to watch my sister and me; also my two cousins, Edmond and Estelle. My Brother Al and cousin Charles were also with us. Well she was supposed to mind us but she took us to the Levee for a walk. I remember we were sitting under this palm tree by Otis's Mahoney Mill when they found us. They were nearly out of their minds with worry.
Another vivid memory is going to Covington to visit Aunt Lovie. My mother, Bernie, Junior, Aunt Clara, Myrtle, Violet, and myself. We went with one of Myrtle's boyfriends in his old car. We caught the ferry and crossed Lake Pontchartrain. How I remember that trip! As usual whenever we went across the lake a storm came up. The thing I remember most about the trip was that as I went to get a cookie out of a bag I pulled out instead a piece of elastic. All this happened before my brother Charles was born in 1926.
My Aunt's home in Covington was a beautiful place. Bernie & I went there a couple of summers. The last summer I went was in 1929 as my Grandmother died in 1930 in June and I did not go there during the vacation after that. She had fruit trees of all kinds, oranges, sasumas, crab apples, peaches, plums, and green and purple grape vines. She had thousands of chickens and all kinds of animals including ponies.
They had Mass at the Catholic Church every other Sunday and then the Priest would come and eat dinner there. It was rather amusing as usually Aunt Lovie's first husband, Uncle Charlie and his wife and Uncle Frank Wehner and then Mr. Smith, Aunt Lovie's third husband would be there. We used to go swimming in a creek called Cook's Hole. That is the place I almost drowned. It was very deep at certain times. This particular time we were swimming across and I only had about an arm length to go when I just quit and I don't know why. Another lady called Miss Fanny pulled me out.
Thursday Night, March 13, 1980
Just finished watching The Waltons on CBS, a program that takes place in the 1930s and 1940s. What memories were brought back as the youngest boy John Bob volunteered, along with his other three class mates, for service on their Graduation Night. His three older brothers were already in service all volunteering for overseas duty, the older one being wounded and hospitalized yet he volunteered for overseas duty again. What a mixture of sadness and proudness that family had.
I thought of the families I knew who sent their love ones off to war during those days. All the young men, brothers and cousins, in my family volunteered into the different branches of service.
My brother Al, who was 2 years younger than I, joined the Coast Guard. He was one of the luckier ones having been stationed in New Orleans for 5 years after his basic training. At that time we thought he had been safe but not too long ago it was published that a German submarine was sunk right off the mouth of the Mississippi River. Wouldn't we had panicked if we had known about it then. News was not leaked out then as it is now. Secrets were secrets then.
My brother Charles couldn't wait to get involved. He was 16 in Dec. 1942 when we declared War and from then on every once in a while he would go to the Marine Recruiting office but always he would be turned down because of his ears. He had infected ears a lot while he was a child and that caused a hole in his ear drum which was something that none of the services would take you. I remember a couple of times a week my Daddy would have to wash out his ears with a syringe.
Well anyway he wanted to sign up to the Marines. The Marines were supposed to take the cream of the crop, as it was said. The other branches of service would take a man when the Marines would not.
Well in Sept. 1943 on his seventeenth birthday he went down to the recruiting office for the Marines, Navy, and was turned down so he went to the Army and they signed him up.
Well he waited to be called and then on New Years Eve he went home and told Mama & Daddy that he was leaving that night. That the Army had released him to the Marines. We had no reason to believe otherwise.
Well we all went over to Mama's and said our farewells. The next day was New Years and it was the first New Years we would not be together for dinner. After his thirteen weeks training he was sent to Guam. I hear he was wounded twice. We didn't know about it till Mama & Daddy received two purple hearts. From there he was sent to … Well right before his 18th birthday in Sept. 1944 my Dad received a telegram addressed to Charles to report for induction in Texas for the Army. What a shock. My dad phoned the Red Cross and then they send an Honorable Discharge for him. We found out then that the Army doesn't take a 17th year old in active duty. Henry in the meantime on his seventeenth birthday (Oct 12, 1945) went to join the Merchant Marine which was part of the Navy during the War. Although peace was signed with Japan in Aug. 1945 we were still considered in Wartime. Henry was sent to Virginia for booth training. Charles at this time came home. He then joined the merchant Marine mainly so he could be with Henry. He was sent to Virginia. In the meantime Henry was sent to San Francisco, California. Charles in the meantime wanted to come home to see Henry as he was coming home on leave and they gave him an Honorable Discharge as they knew he was mixed up having signed up almost as soon as he was discharged from the Marines, so they gave him an Honorable discharge. What a blessing that was because when Henry came home on a leave it was the last time we saw him. The first time that Charles saw him since he signed up in the Marines. That was Henry's last leave as on June 18, 1946 my Mom & Dad received a telegram that Henry had drowned in the San Francisco Bay.
Letter from Martin Homer
Memories of Josie Geis Ladner
By Martin Homer
May 23, 1995
(Typed by Ken Ladner from a letter hand written by Martin Homer, obtained from his wife, Bertha Mae Homer)
Josie and I go back a long way. We both worked at Zataraines. She was in charge of checking of the drivers daily cash from deliveries. I was a route driver. My territory was the out of town deliveries. Whenever Josie checked the cash collections she would tell you if you were short or over. If you were short she would take it out of your Saturday pay.
One trip from Baton Rouge she informed me that I was over $10.00 but she didn't give it to me. She had to hold it in case someone wrote and claimed it.
My first trip I bought a post card and a penny stamp (That was the price in those days, 1936) and had my friend who owned a restaurant in Gonzales, La. to write and tell that I short changed him $10.00 on my last trip. When I got back Josie showed me the card and said when I made my next trip to Baton Rouge she would give me the $10.00 to return. Of course I kept it and told Josie when I came back. "I told her if the Company can deduct from my salary when I am short, its only fair to get it when I am over." We were great friends ever since.
Martin Homer
P.S. Josie salary was $15.00 week. My salary was $17.00 weekly.
Folks, there is something else I remember about my very best friend, Josie Geis Ladner. I don't think there is another female that knew as much as Josie did about baseball and football. E.A. Zaterarain sponsored American Legion baseball each summer for a number of years. Josie was in charge of getting the employees to attend the games. I drove the large truck and Josie sat in front with me to and from the games no matter where they were played; in New Orleans, Gretna, Baton Rouge, or where ever. We had about 40 fans with us and Josie didn't stop talking going, during, and coming home from the game. She was a real cheerleader. She knew each player's name and also his batting average.
The only time we would disagree was when Fortier High School (Her favorite) and Jesuit High School played football. She was a big Fortier rooter and I was a Jesuit man. I beat her a lot on that subject because Fortier only beat Jesuit once in 65 years.
The last time Josie was at our home for a Sunday dinner was in 1994. I was looking at the Saints game and Josie joined me, said dinner can wait. She was rooting for the Saints like she was at the game.
Yes my friend, there will never be another Josie. I'll remember her for the rest of my life. May God bless and keep her. Amen
I wrote this because I think I knew Josie longer and better than most people. We go back to the early thirties, before Social Security came into effect (1936). There's a lot more good things about Josie but it would take forever and a day to write about.
Martin Homer
Documents
Error creating thumbnail: Invalid thumbnail parameters